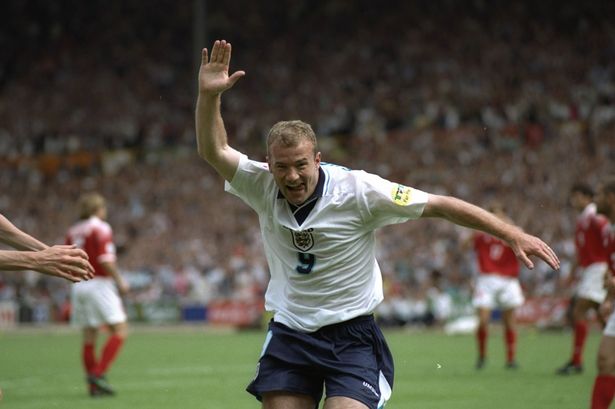 The summer of 96. The stage was set for something special.
The first major championship on English soil since the famous 1966 World Cup win, a catchy song ready to be bellowed across Wembley, and a nation ready to party.
The England 96 squad
The England squad was littered with established stars including the Premier League's top scorer Alan Shearer and Teddy Sheringham (The famous SAS duo), as well as a few promising youngsters such as Gary Neville.
There was a real buzz around England's chances. Manager Terry Venables had got the team playing an attractive brand of football and they were widely seen as potential dark horses for the tournament.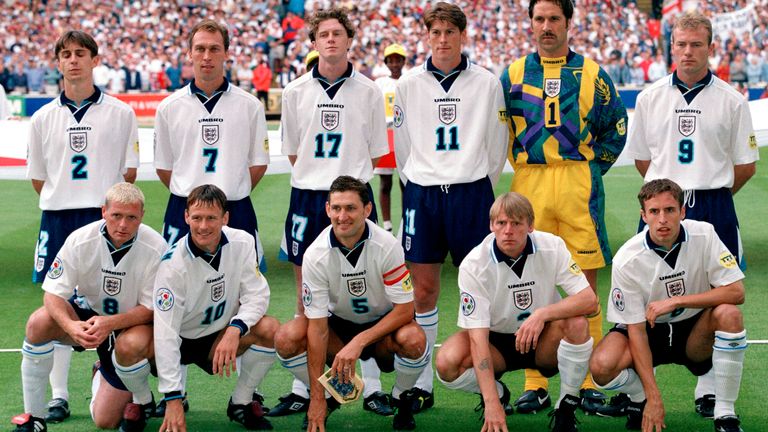 The Full England Squad List
David Seaman (Arsenal)
Gary Neville (Manchester United)
Stuart Pearce (Nottingham Forest)
Paul Ince (Inter Milan)
Tony Adams (Arsenal)
Gareth Southgate (Aston Villa)
David Platt (Arsenal)
Paul Gascoigne (Rangers)
Alan Shearer (Blackburn Rovers)
Teddy Sheringham (Tottenham Hotspur)
Darren Anderton (Tottenham Hotspur)
Steve Howey (Newcastle United)
Tim Flowers (Blackburn Rovers)
Nick Barmby (Middlesbrough)
Jamie Redknapp (Liverpool)
Sol Campbell (Tottenham Hotspur)
Steve McManaman (Liverpool)
Les Ferdinand (Newcastle United)
Phil Neville (Manchester United)
Steve Stone (Nottingham Forest)
Robbie Fowler (Liverpool)
Ian Walker (Tottenham Hotspur)
The England Euro 96 kits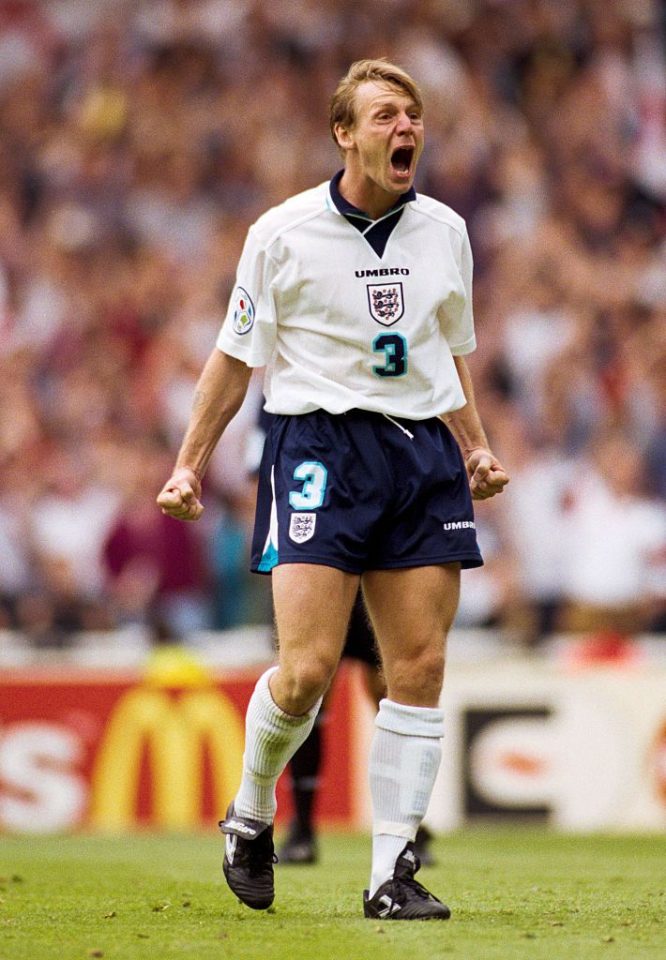 England 96 home kit
England's home kit for Euro 96 was a subtle all-white design that was finished off by a Navy and lighter blue collar.
Navy shorts and white socks supported this popular England shirt.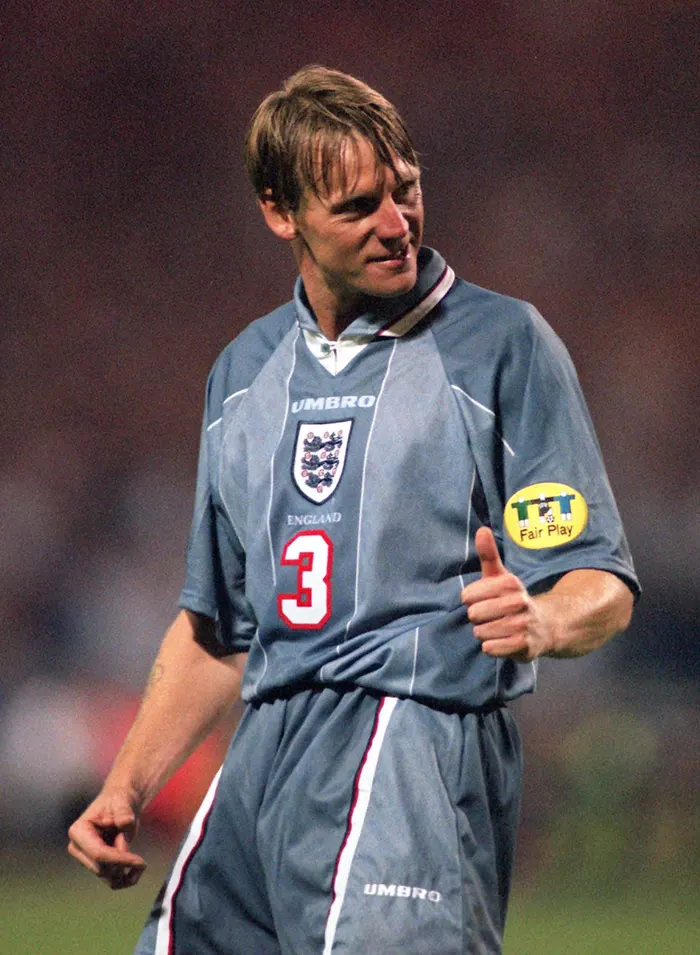 England 96 away shirt
The England 96 away kit was unique with its grey colour. Never done before or after, the kit had 2 shades of grey creating a 'stripe' effect on the jersey.
The England shirt was complimented by grey shorts and socks.
Euro 96 group stage
England was placed in a squad with the Netherlands, Switzerland and an eye-catching tie against neighbouring rivals Scotland.
By no means an easy group to qualify from, but most England fans would have been confident of making it through to the knockout stages.
England vs. Switzerland
First up was a match against Switzerland who had recently changed manager to replace Roy Hodgson who had departed to Inter Milan after a successful qualifying campaign.
It all started so promisingly with Alan Shearer firing in the opener with his first goal for England in 2 years.
However, Switzerland hit a late equaliser through a Kubilay Turkilmaz penalty. England were unable to find a way through for the remainder of the match, having to settle for a 1-1 draw.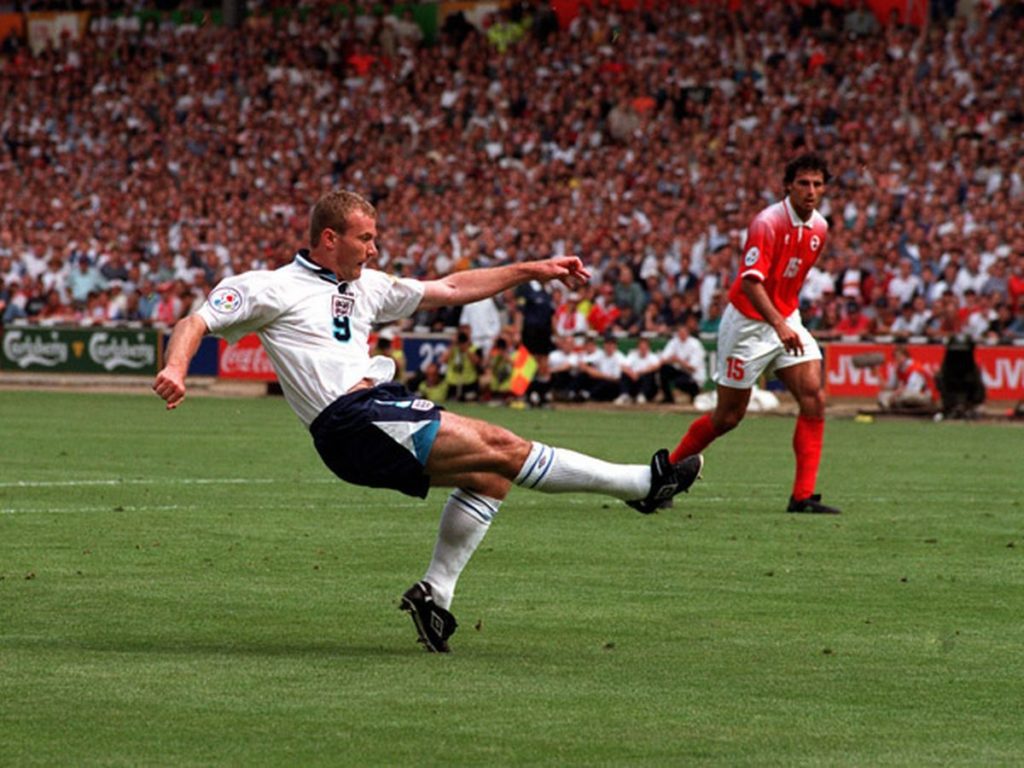 England vs. Scotland
A game that is etched in the memories for England fans.
The Wembley atmosphere was electric for the match, with the auld enemy Scotland desperate to spoil the party.
An Alan Shearer header again gave England the perfect start, before Gary McAllister had a chance to equalise from the penalty spot.
However, David Seaman pulled off a great save to keep the English lead intact.
Now, enter the stage Paul Gascoigne!
Gazza receives a ball from Darren Anderton on the edge of Scotland's box, he loops the ball over an incoming Colin Hendry, before smashing a right-foot volley past the helpless Andy Goram.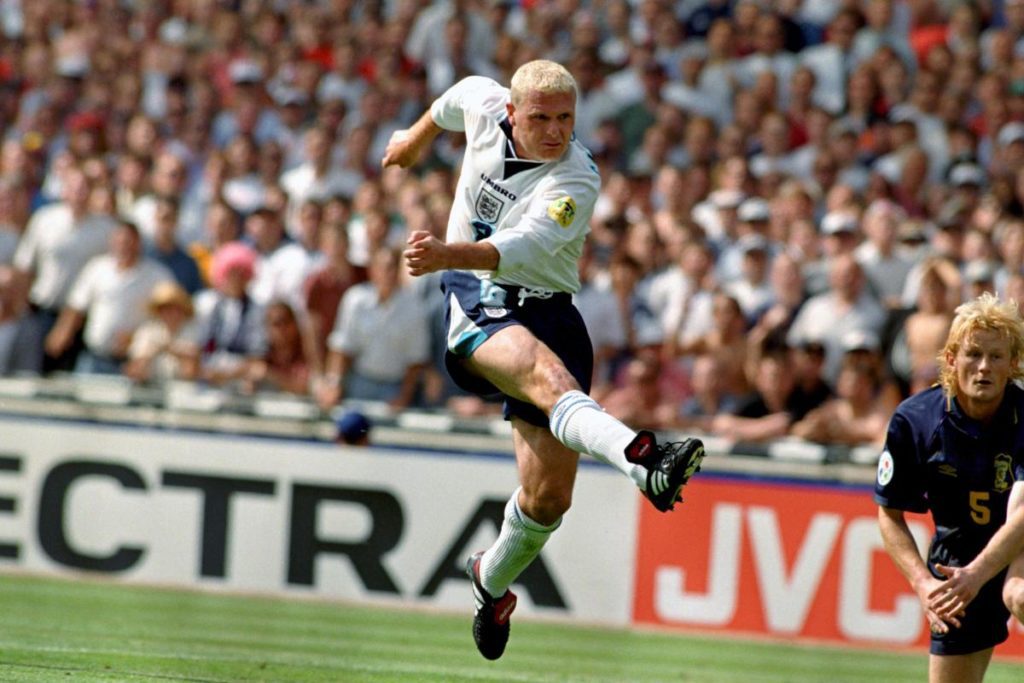 He runs over to grab a water bottle and goes on to perform the famous doctor's chair celebration. Gazza had single-handedly put England into dreamland.
The game finished 2-0 to England and Gazza's wondergoal is still remembered as one of the best moments in English football history.
One of the most famous goals (and celebrations!) in recent England international history, and it effectively sealed the Three Lions' spot in the knockout stages.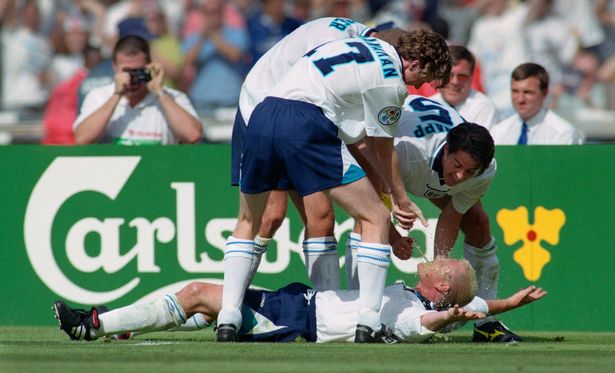 England Vs. Netherlands
The final group game against the Netherlands.
The Dutch side was full of well know exciting stars, with many players plying their trade for Champions League runners-up Ajax Amsterdam.
Notable names would include Dennis Bergkamp, Patrick Kluivert and the De Boer brothers Frank and Ronald.
Both teams needed a win to be sure of qualification, with Switzerland and Scotland still in with a chance should results fall in their favour.
Alan Shearer converted from the spot to continue his goal-a-game ratio in the tournament so far, following a foul on Inter Milan midfielder Paul Ince.
The SAS strikeforce was in full flow with Teddy Sheringham scoring a second from a Paul Gascoigne corner.
This was then followed by a wonderful Alan Shearer strike, cutting across the ball to fire into the top corner.
Sheringham then left no doubt of victory with a fourth goal, finishing a rebound from Darren Anderton's effort.
Patrick Kluivert did grab a consolation goal, which meant the Dutch qualified for the knockout stage instead of Scotland.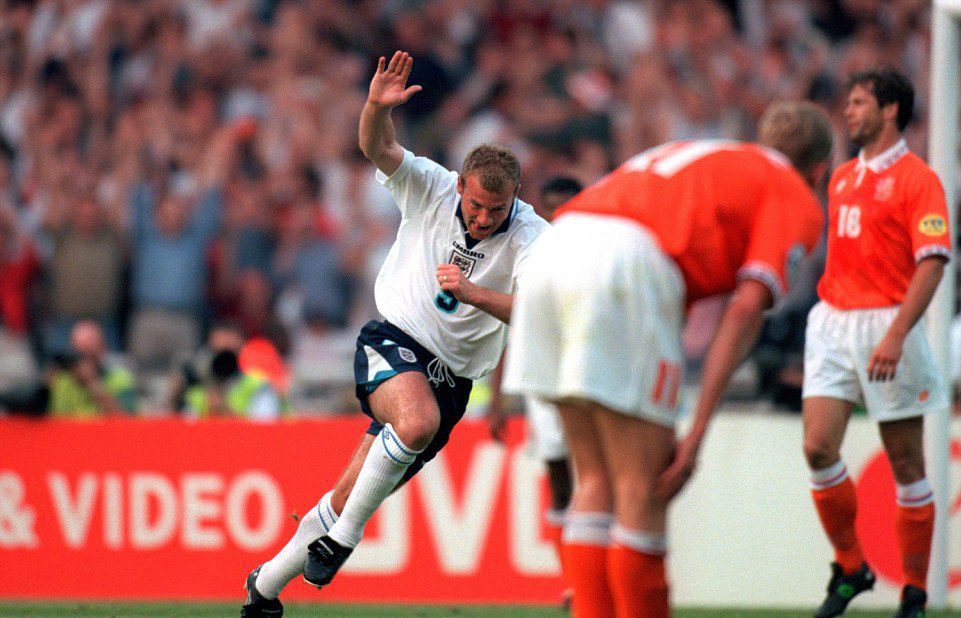 Euro 96 Quarter-Final – Spain
After emphatically topping their group, England hosted Spain in the quarter-final stage at Wembley.
The game was not a classic and ended in a tense 0-0 result after extra time.
Now for the scenario every England fan dreads…Penalties!
However, it wasn't the usual disappointment for the Three Lions. Hero of the hour David Seaman saved Miguel Angel Nadal after Hierro had blasted his penalty against the bar.
4-2 on pens and England through to the semi-final.
Against who? No other than arch-enemy Germany.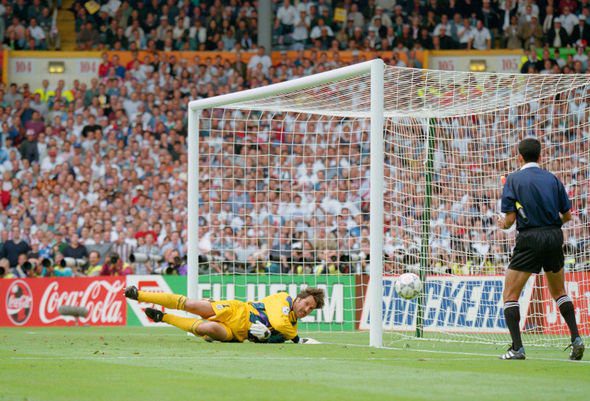 Euro 96 Semi-Final – Germany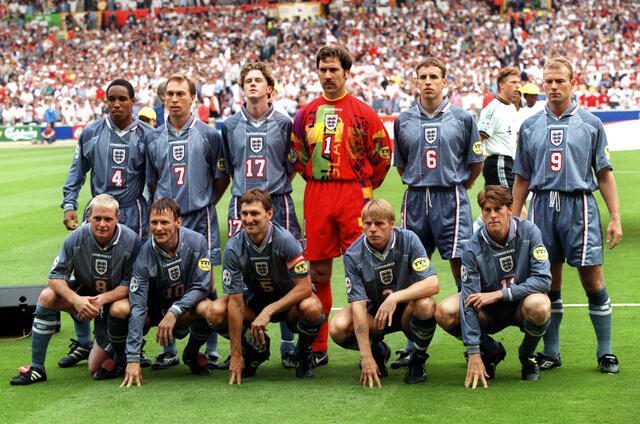 The stage was set. Arch enemies on more than one occasion, England and Germany faced each other with a chance of reaching the European Championship Final.
Germany had been impressive throughout the tournament and would be a real challenge to England reaching their first major final for thirty years.
Wearing the iconic grey kit, England got off to the best start possible when Alan Shearer headed his fifth of the tournament from a Paul Gascoigne corner.
However, the tournament lasted only 13 minutes before Stefan Kuntz put home the equaliser to leave things on a knife edge for both sets of fans.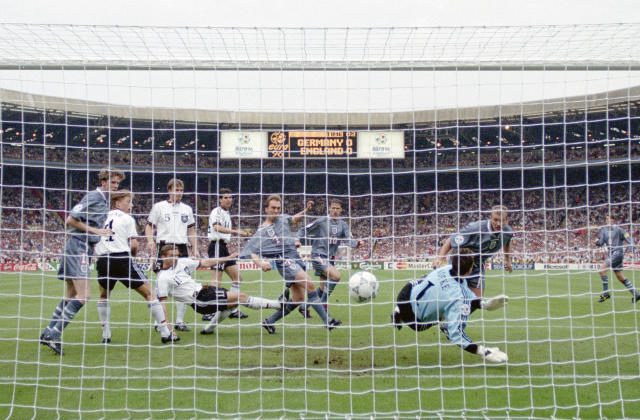 A tense game where England almost nicked it when Gazza slid to meet an Alan Shearer cross (So, so close!).
After extra-time came the much-feared penalties against an efficient German side who had beaten the English at Italia 90 from the same scenario.
The Germans carried out their penalties as expected with laser precision, and to the delight of England fans so had their side!
Stalemate
With both sides scoring 100% of their penalties, it came down to arrived sudden death…..
Can centre-half and current England manager Gareth Southgate step up to put England into a lead once more?
Unfortunately. No.
Southgate misses.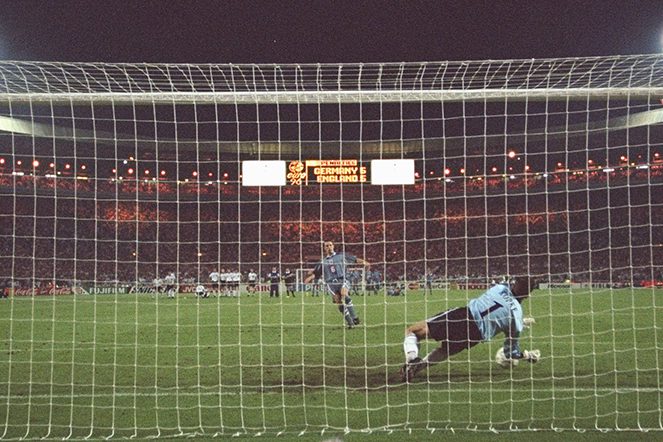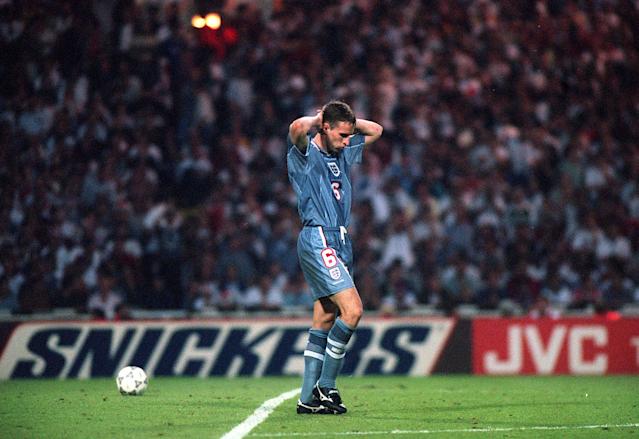 Andreas Moller scores his penalty to give the Germans a spot in the Euro 96 final.
England fans were left heartbroken, but this group of players had managed to forge a bond between fans and the team that would live on for many years to come.
England didn't just provide us with memorable tournament, they also gave us two classic kits that remain popular over 25 years later! Both shirts can be purchased today from our store.
Do you have fond memories of England at Euro 96?
Let us know in the comments below!